Zoku™ Hypochlorous Acid Disinfectant Spray

#Keeping Your Home Clean and Sterile at Lowest Cost# 
Zoku™  Disinfection Water Electrolytic Home Sterilizer is perfect for disinfecting those unreachable parts of your home, like the gaps in your sofa and the tops of cupboards. Never buy cleaning products again!  Effective as of any cleaning product, and it's totally natural, so it won't harm your skin or aggravate your allergies. Say goodbye to that closet full of cleaning products.
Features:
✅Safe and Harmless, Sterilization rate reaches 99.99%
✅Environmental-friendly, only Salt and Tap water to create electrolytic water disinfectant. safe and hygienic and not easy to corrode
✅Simple to Use - USB Rechargeable, convenient and fast charging
✅It can be used for disinfection, Anti-bacterial, keep the house fresh and deodorization. 
✅Work on every surface, because the EO water is sterile and non-toxic, It is one of the safest disinfectants on the market.
✅Can be used Anywhere for office public space, public toilets, elevator rooms, business hotel disinfection, vehicle disinfection and deodorization.
✅100% natural and not toxic, Its a technology that converts regular table salt and tap water into Neutral Electrolyzed Water (NEW, or EO water) to destroy infectious organisms wherever they're hiding.
More Effective Than Alcohol Sanitisation!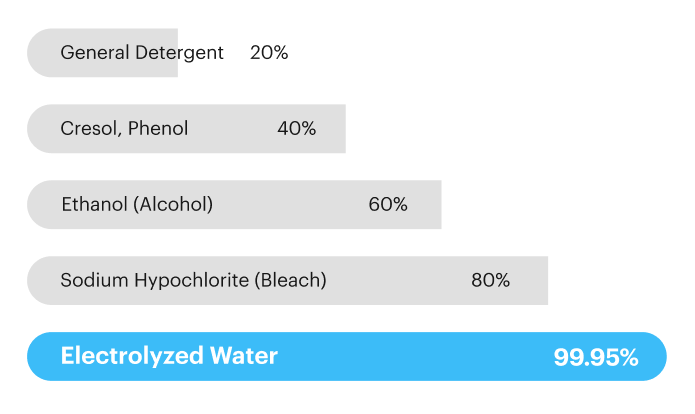 How To Use:
【PUT WATER AND SALT 

】

into the bottle at home, plug the power cable into the USB terminal, turn on the switch with one click, and complete the production of electrolytic sub-water in 6 minutes. Making a bottle of electrolytic sub-water is as convenient as using a spray bottle. At home, you can simply make electrolytic sub-water (deodorizing and deodorizing water).
【IT CAN PRODUCE 3 KINDS OF CONCETRATION

】

low concentration about 300-50mg / L-water 350ml + salt 7.5g. The standard concentration is about 500-80mg / L--350ml of water + 15g of salt. High concentration is about 1000-1500mg / L--350ml of water + 22.5g of salt.
【ONLY NEED 1 BOTTLE OF CHLORIC ACID WATER GENERATOR

】

Even if you don't buy germicides and deodorants. It is most suitable for sterilization of sterilized water and deodorization measures made with brine.
【BE SURE TO WIPE IT WITH WATER BEFORE BLOWING IT DRY

】

 It does not match with metal products. For safety reasons, it is recommended to pour the remaining water into the bottle, leave it alone and replace it with a bottle without a spray head.
Product Specification:

Generation time: 8min

Voltage: 5V

Power: 3.55w

Capacity: 300Ml

Size:23.8x9.8cm
Product Content:
1x Disinfectant Maker

product information
Frequently Asked Questions:
Do you ship worldwide?
Yes we ship anywhere in the world with DHL and USPS tracked and insured shipments.
What payment methods do you accept?
We accept PayPal and all credit cards and debit cards.
How much does shipping cost?

We're offering free shipping for a limited time only 
How long does shipping take?
Due to high demand and global events the shipping time is approximately 10-12 days although we do expect this to reach you much sooner.
Buy with confidence:
Your private information is never shared, and payment is 100% safe and secure. We process payments using the Verified PayPal gateway. This means you're protected with PayPal's Buyer Protection Policy, which ensures you get what you pay for. If something goes wrong with your transaction, PayPal Buyer Protection has you covered.
When you buy through our online website your details are 100% encrypted and secure:
100% encrypted SSL  secure checkout

24/7 support via our customer service email info@zokustore.com

Tracking numbers sent with every order